I would rather live in the movies.
I've decided to take a break from the usual order of things and my negativity and dive into the world of movies. You see, I love movies. They are something that I can get lost into and all my fears and worries vanish away for that small fraction of the day. No matter what movie it is, I feel astranged from the world while watching one.
Now that I have given my introduction on movies i'll begin with one of my favorite movies. 'A Walk To Remember.'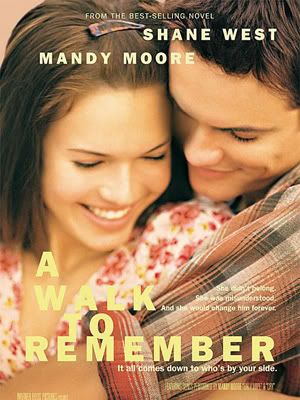 This movie was made with brilliance and elgegance. It was pure genious. The actors, producers, the writers and the director did an amazing job on the adaption of Nicholas Sparks novel. I had never read the book or even heard of the book before the movie. I went into this movie with no expectations on what it was supposed to be. I walked out of the movie with awe and with teary eyes. (I admit, I cry in movies.) I was so grateful for a movie so well made and good that I couldn't wait to read the book.
Mandy Moore did a fabulous job. Her amazing talent and her voice put a good light on the movie and she made Nicholas Sparks
character real, real to the bone. Her light elegance and her sweet acting was pure and real. I applaud her.
Shane West was just as good. As Landon, he was a bad boy who fell in love with an angel, a woman of God. He played the bad boy with such a good fierceness that it felt believable. When falling in love
with the girl he never thought he would fall in love with, he did that as if he really was in love. It was real. Shane West was the right man for the part. I fell in love with him. He's cute and adorable. He let Nicholas Sparks imaginative book into a reality and that is a high honor.